Dekhna hai zor kitna baazue quatil mein hai
The time to DO has now come. Anna tried everything, from requests letters to negotiations but nothing happened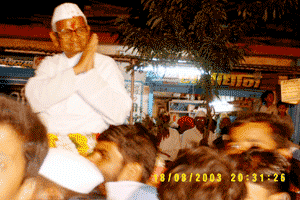 Also see previous entries–5 ways to support anna hazare
and Why Anna Hazares Victory is essential to us
Just a chronological order of events since then
1. Government conducted a Sham of discussions
2. Even though they did start discussions, most of the Lokpal bill issues were not considered
3. They reduced lokpal to simple Jokepal bill. No real powers, no real authority
4.After the discussions ended, they went ahead and presented their version of toothless bill in the parliament making a joke of  Jan lokpal and all the discussions
5. Anna decided to start the agitation again
6. He constitutionally asked for permission to hold an agitation
7. Spineless government simply refused.
8. Anna arrested because he still decided to go on Fast
The time has come my friends, "Behron ku sunane ke liye dhamake ki zaroorat hai"
No we are not getting violent, we are getting peaceful
Here is what we can do to support
1. March: Arrange candlelight marches, Banner marches across the nation, in your schools, in your colleges, offices. Even if it is for 30 minutes, just now came back from a march of more than 600 people from my office Infosys Chandigarh. We simply marched on the side of the road, no violence no traffic blockage. Just us and the resounding slogans of protest and support
2. Tweet about it, Share on facebook,discuss on forums. Make sure AnnaHazare is the trending topic everywhere, let the world know that India is rising now
3. Use the constitutional methods: File a grievance "My Leader Anna Hazare was denied permission to hold a fast"
Flood them with letters
4. Educate ourselves about the Jan Lokpal Bill
5. Join Anna Hazare groups on facebook
Get India talking, get the world talking, and let the corrupt know. The numbers are finally against them.
They believe they can get away with this by fooling poor villagers who do not have access to Information. Now the villages are rising, let them show the cities are rising too.
Today I saw software engineers, come out in huge numbers to support an Idea, to support a movement and trust me getting IT guys on streets shouting slogans is not easy, but it happened
Because the stage has been set, you just need to light the fire. So take the initiative, discuss an idea of symbolic marches with your colleagues, stay away from procrastinators they are not doers.
But follow these simple rules
1. Inform local authorities(yes follow all rules)
2. Make sure its peaceful
3.No Mudslinging on any party. We are With Jan Lokpal bill, it's not a political battle
4.Dont block traffic
5. Dont cause inconvenience to your fellow city dwellers…IE be careful about Hospitals and schools
6. Use your voices
And Yes…Keep yourself updated…Be the solider on the internet..The country needs you. Every blog counts, every tweet is important, every facebook update is important.
Anna tum Aage Bado….Hum Tumhare Saath hain