Its been exactly 1 year and a few days when I recorded my first poem, Nostalgia an ode to college life and friends . I still vividly remember how a few days before it I was so excited because one of my video with me playing "When i say you standing there" by Lobo had touched 5000 views. It was an achievement for me ,because atleast 5000 people had found it worth to listen to me.
I remember, i recorded my video, posted on youtube and posted on facebook. I did not wait for any comments from my friends because i was so sure that i will get brick bats. College friends have a strange relationship, even if they like something they will first laugh at you, its the purest form of friendship.And i was expecting that.
Next morning when i woke up, i saw some comments on my facebook,none of them was making fun of it. Almost everyone loved it,some even shared it. My video getting shared? Am i dreaming.
But little did i know that it was just the beggining, i checked my scores on youtube, 2000 views in one night(6 hours actually). What 2000 that too in 1 night.
I was super excited and started checking my scores every few hours , actually every 15 mins :). By the time I woke up properly and took bath it hit 10,000 and I knew it was going to be Big.How big i didn't know
To say that I was obsessed with the number of views would be an understatement. I received a flood of comment on youtube from strangers and random people. I replied to every single one,thanking them for listening to the entire 5 min video with only me reciting a stupid poem without even a single picture
Then there were predictions, my mon guessed it will reach 1 lakh and stabilize, I was hoping 50,000 . But within a few days it surpassed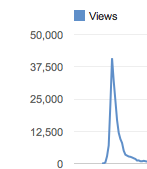 me, the video was released on 18 January 2011 and on 23rd january alone it was viewed more than 40,000 times.
It was my 15 minutes of fame, I coud not fathom what just happened .I even got Facebook invites from a few TV actors telling me that they loved it. Heard about 7th heaven? I was there
Yes it had truly gone viral. Since then I receive a few hundred views on that video everyday. It gave me confidence and I pulled out my old poems and started recording. None of them was as successful but definitely well received  . I met some wonderful people ,who became regular listeners. I recorded many poems and composed a few songs after that. Released Nostalgia on itunes,amazon etc and became an official artist 🙂
Battled with piracy, saw many copies of my video posted by people claiming as their own. One idiot actually muted out my name before posting again ,I got many of them removed but still felt good because people found it worth while to copy:)
At its best, was the 36th most viewed you tuber in india for the month of February and march 2011, just ahead of amir khan productions :D(yeah briefly I crossed that channel) and malaika arora khan. Oh I am so egotistic 😛 but I am happy to have lived that moment
Some people used my poem in their scripts(though they claimed it as their own :P) some said that they all got together on last day of college to listen to my poem as a batch, some recited it in their farewell functions. Boy was I proud.:).
And thinking that I wrote this poem in 2006 and never recorded it,I almost didn't publish it online also because I felt it was crap and people wont understand my monologue. People will not identify with it . And here I was reading comments such as , "I never thought a poem could make me cry" "I felt as if I have known you forever, you were speaking my language".
So this was my 15 minutes of fame.Now I am also an RJ, trying to make a mark in this field of voice overs just because some people on internet found it worth while to listen to me and share it with their friends. Till date on YouTube it has been viewed 260,000 times and countless times on Facebook copies .Can I thank those people enough? Maybe not
But I will keep writing. And this post is to Thank all those people who just by listening to me added a whole new dimension to  me. Before that I was an engineer who could write a bit of poetry , now I proudly say, I am a poet by heart and engineer by profession . You made me do something I always wanted to do , to be frank i would never have dreaded to tread this path seriously had it not been because of you guys ,so thank you
As a small gift, I am distributing free MP3s to first 30 people of any poetry they want. I know you can easily get it from any file sharing or piracy sites , but its fun to get it legally, isn't  it :D.
here is a link to my youtube channel  https://www.youtube.com/user/madafter
Also you can see my videos on this page Videos