I sometimes share my holdings in US stocks on twitter.

Before you ask: I use Vested to invest in US stocks from India (my referral ink)
It's a fun exercise, and people's comments help me learn as well. I am also a strong believer in putting your money where your mouth is, hence when I say I like company X, it carries more conviction if I actually hold that stock.

This is obviously NOT an investment advice of any sort. It's just be tracking how my personal portfolio evolves over time. There will probably be NO financial estimates
This also does not include my Employee Stock options from Google and Microsoft( haven't sold a single share in MSFT ever). This is only my Vested holding
---
July 29 2021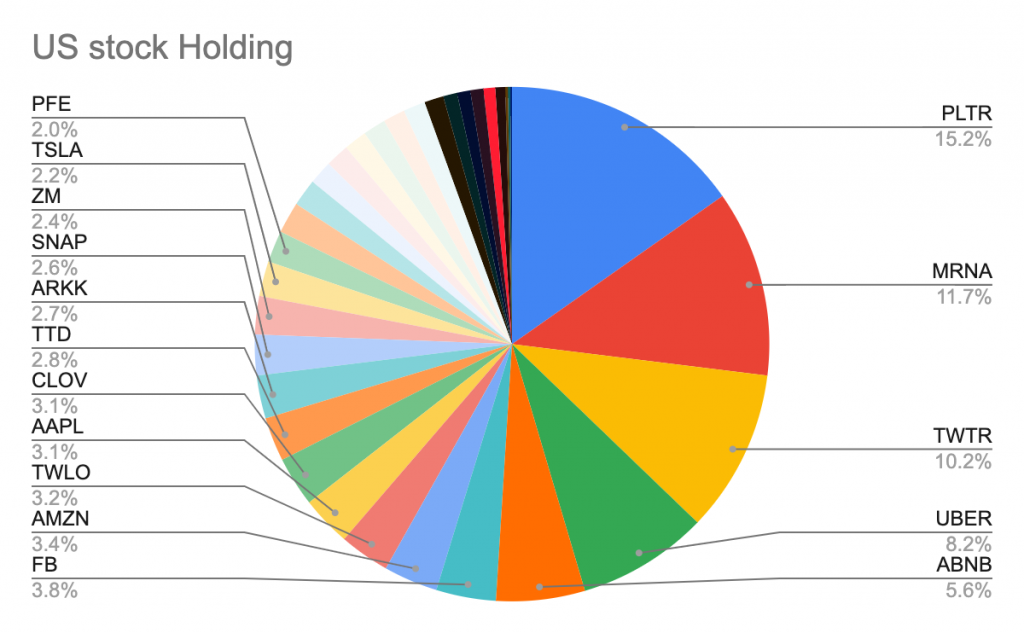 Palantir remains a big bet as before. I think with China US tensions escalating, Palantir has a chance of becoming an even more important company
Moderna growth is primarily due to growth in stock value itself. Bought it as soon as they had vaccinations available. MRNA is a watershed moment in vaccine development and it was an almost mindless decision to double down on the pioneer.
Twitter as usual remains an all time favorite . I think they are extremely undervalued, but seem to have recently been shipping at incredible pace. It's a pure and pure product company, something I hope i=I understand :), and I like what I see. (Twitter as identity and social capital management)
Sold most of Snapchat after stellar earnings. Will enter again
Sold a lot of clover to take money off table during short-squeeze, entered again when price dropped. Will hold long now
My cash holdings are down to <2% primarily because I did some short term investments when the market went significantly down
Small wild bets:

Didi , because why not.
Still hold a bit of AMC

Plan: More cash holding . Target ~15%
June 11 2021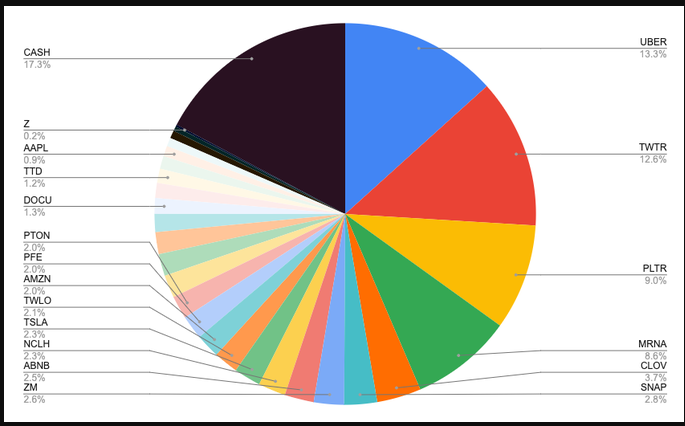 Biggest change: CASH : <1% –>17%
Clover got short squeezed , so YAAY
Uber FTW as always
Palantir , Moderna, Twitter conviction still stands
Added Snapchat
Feb 26 2021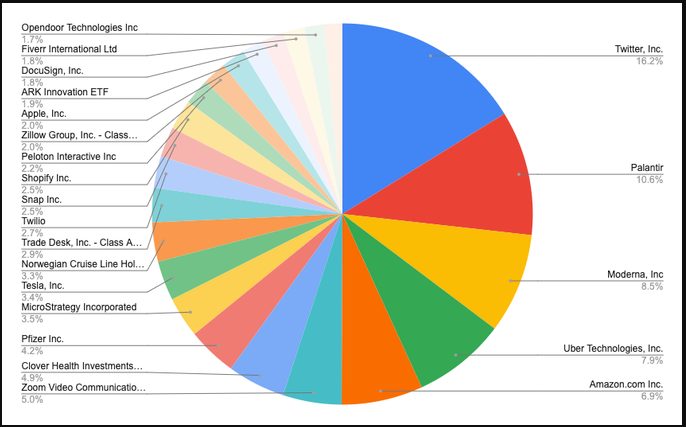 Doubled down on Twitter and is now my BIGGEST holding
Doubled down on Palantir, its becoming an extremely important company
Exited most of Apple. It feels like it may be a while before M1 sales show up. I also have Mutual funds in india that invest in Apple so may not need such a significant bet. Not to mention, despite great results the stocks didnt show any excitement. I obviously don't understand stock market.
More clover added. It looks like a sound company
Jan 25 2021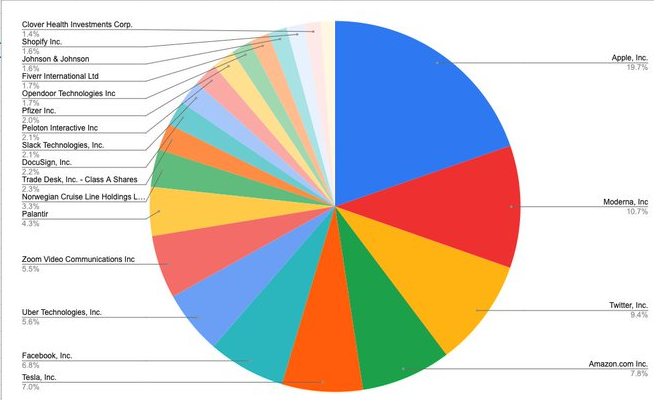 Reduced my stake in Tesla, I wanted to book some profits. I had opened US stock account primarily because I wanted to buy Tesla stocks 🙂 , that was a good decision in hindsight and paid off handsomely
Sold most of Uber to book some profits at 42 (should have held on, but I had bought a bunch at 16, 30, 38 )
Added Moderna. It's an almost mindless investment. Not just because of covid vaccines but because MRNA is possibly the future of vaccination. It's like buying amazon of future. Thats how vaccines would be designed
I am hoping Apple earnings would surprise everyone 🙂 . Their new processor is a game changer
Risky bet: Clover health. In Chamath we trust..sometimes 🙂
June 30 2020
Thus was my holding last year when I started posting .
Largest holding first
Norwegian cruise line was a wild bet primarily because it seemed like the most stable cruiseline with deep pockets. Big pandemic recovery bet 🙂
Slack and Tesla, favorite since long
Entered Twitter
Uber stocks still held in morganstanley employee account. not sold a single share